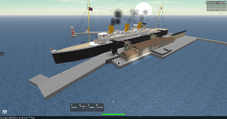 The RMS Duchess of Sutherland is a ocean liner in service with Royal Mail Lines.
The ship was built by TerrenceMorgan and is a sister ship of the RMS Porter and RMS Hanover. the ships served as flagships for the Royal Mail Line untill Nativity Liners went out of business when the RMS Grandure was replaced as flagship. however the Duchess of Sutherland remained in service and the ship was moved to Royal Mail Lines the line replacing Nativity Liners. with this she is the oldest ship of the Porter class still in service.
Ad blocker interference detected!
Wikia is a free-to-use site that makes money from advertising. We have a modified experience for viewers using ad blockers

Wikia is not accessible if you've made further modifications. Remove the custom ad blocker rule(s) and the page will load as expected.