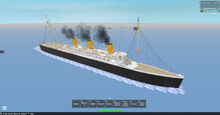 Royal Mail Line is a british shipping company on ROBLOX founded by TerrenceMorgan the line is mostly known for owning the RMS Duchess of Sutherland.
From 2014 to Feburary 2015 the line is part of Nativity Liners and serving as official sister line of Nativity Liners until its shut down. In 2015 the company succeeded Nativity Liners and got all Nativity Liners ships
RMS Andre Rieu
RMS Leon Marie
RMS Duchess of Sutherland (Flagship)
RMS Hanover
RMS Grandure
Ad blocker interference detected!
Wikia is a free-to-use site that makes money from advertising. We have a modified experience for viewers using ad blockers

Wikia is not accessible if you've made further modifications. Remove the custom ad blocker rule(s) and the page will load as expected.